How WLGC Automated 98% of Golf Club Membership Payments & Reconciliation
Automated Golf Club Payment System
98.2% automatic reconciled payments
Six months after implementation, we have processed over £160k in payments. We have successfully processed £40k in one day.
The club can now process and reconcile automatically with Club v1, 98.2% of payments.
It is only some cash payment and certain cheques over £1000 or single cheques that cover multiple members (e.g one cheque for husband and wife's annual subs) that we don't currently automatically reconcile, but in next few weeks we will deploy fix to handle payments that cover multiple memberships & split payments.
Bank transfers and Standing Order payments are down 19% and the bulk of payments 59% being processed via card payments which are automatically reconciled in Club v1.
Quite a remarkable turn-around !

Flipped the ratio from 8% to over 98% automated and reconciled.
Lower charges
Improve payment success rates & reduce payment error rates
Encourage more people to use more profitable, least admin payment routes
Radically reduce administration effort of reconciliation.
Removing significant manual data entry.
Reconciled payments automatically entered in Club v1
Automated reports on who has paid and not paid
Removal of overpriced IT services, especially DNS charges.
The best thing has been seeing the web-site live, the transformation and the testimonial from the club.
previous web site & club challenges
92% manually reconciled payments
In Dec 2021, we started working with West Lothian Golf Club to improve their web-site, improve online payments for memberships and improve automation as they wanted to modernise and reduce the manual effort running the club.
The club and ourselves were quite staggered once we analysed the current position. 
92% (by volume) of payments required manual reconciliation/posting into Club v1. This caused significant manual administration overhead to report on payments, reconcile payments & update Club v1 via manual data entry. Effectively only 8% of membership payments were being reconciled and processed automatically.
Direct Debit processing provider GoCardless & FairwayCredit was more expensive than nooQ Golf (approximately 50% higher on average for current transaction values, with a 100% higher cap).
New member "online" applications are via emailed PDF, followed by transcribing all the data manually into Club v1; this adds further effort and has the potential to introduce transcription errors, paper processing, welcome packs and badge access setup. Each new member also emailed instructions on how to pay via standing order, so even after joining, can be several weeks before member is setup and payment received.
Existing member billing processing is impersonal and inefficient, potentially leading to tardy payments and reconciliation is mostly manual.
Web site design based on Club v1 template & hosting has a look and feel that is limited and dated, with poor social media integration.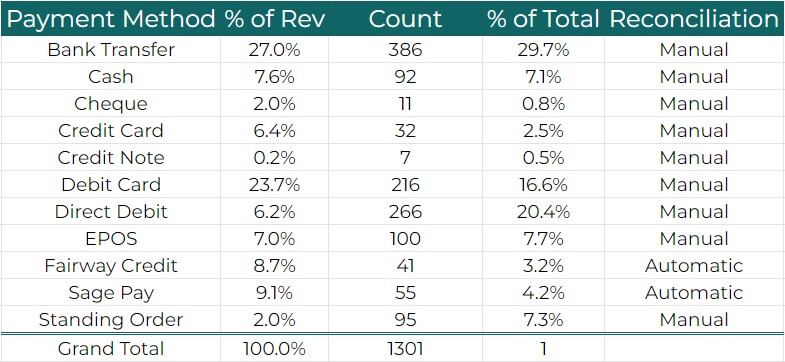 Automated New Member Applications
New application processing would be fully online via applicant input, with automated insert to Clubv1 after club approval
Online waiting list with limits on capacity
Email notification and one click approval button
Initial payment details would be automatically captured, with authorization prior to full acceptance into Clubv1 and allocation of membership card
Improving Existing Member Renewals
Existing Member Renewals
Extend payment options and a more personalized approach to billing
Make it easier, more prominent and encourage people to choose cheaper payment channels that makes settlement with easier billing reconciliation
Upgraded & New Design Web Site
Make it simpler for business to receive and manage booking and payments
Enhanced modern design and more responsive look and feel for desktop, laptops, tablet & mobile
Better social media integration to aggregate different sources to the club web-site
Automated Golf Club Payment System with Payment Reconciliation
Automated reconciliation can be substantially improved to additionally include Bank Transfers, Standing Orders & Direct Debits (based on bank data export) as well as all card processing (Debit/Credit card) that is brought in through new member applications or enhanced renewal processing
Improved interactive reconciliation and automated update can be used to clear all remaining unreconciled transactions (cash and electronic transactions lacking appropriate references)
Make it Easier for People to Give you Money
The key theme we focussed on is "Dont Make Me Think".
As a visitor to the club web-site, not to make them think.
Everything should be obvious, have a clear purpose, cater for the customer, in the right logical place and make it simple for people to book services or give the club money in one or two clicks. 
Make it simple for people to book & pay for all clubs services.
Make it simple for back office staff to manage finances, reconcile payments without burden of paper-chasing, repetitive tasks and updating multiple systems
Automated New Member Applications
All data fields validated and matched to correct membership category for age and distance
Online waiting list with email notification to club secretary and captain for one click approval
Payment request sent to member for online in full, partial deposit or direct debit
After successful payment capture, all data synchronised into Clubv1, allocation of membership card and email confirmation
Extend payment options for Apple Pay, Google Pay, Debit Card, Credit Card and customised Direct Debit
More personalized approach to billing including taking into account existing balance
Change payment options to include deposit, direct debit option over 9 months to smooth cashflow over financial year.
Custom branding on payment pages, including new logo, colours, bank statement reference descriptor
Daily payouts, reports and emails on funds received.
Upgraded & New Design Web Site
Completely new web-site design for westlothiangc.com
Updated logo design & colour scheme to remain in touch with current badge but sharper image and more modern colour palate.
Completely new web site structure for pages, focussed on action button that let people pay, book, order without thinking
Individually designed membership cards for each category
Custom google map with club logo, colours and styling to suit club website
Pro-Shop had great trackman facility but under advertised. Use more video and better images to make simple online diary bookings & payments
New video showcase for course fly-over videos, course guide information simplified and online scorecards to replace grainy pictures.
Easier booking for visitors (tee times and open competitions), existing members (Club v1 tee time and app downloads
New catering forms and group booking offers
integrated Facebook Pages from Club, pro and twitter feeds for greenkeeper, club, junior section and pro.
Facebook chat for quick questions and pro shop enquiries
Revamp of Catering page to make simpler to contact, book, see menu and book social events online.
Automatic publishing of blogs posts to Facebook, Instagram and Twitter
Automatic publishing of Course Status and Greenkeeper notes from Club v1 course status to front page of web site
Automated Payment Reconciliation
Existing members will continue to have Standing Orders, so we devised a few strategies to match standing orders and bank transfers, so that they can be matched from the bank statement, then once approved matches automatically update the membership system each month with the payment transaction.
Monthly Reporting on successful payments, outstanding payments by membership category
Automatic email reminders for members that have not paid, increasing in frequency if no action taken.
Automatic block of members who have overdue accounts so they cannot book the tee until payment received. 
Automatic unlocking membership record to allow tee-booking once payment is received, which takes place in under 1 minute after successful payment.